Searching the internet with Copernic
Copernic Agent Basic is an application to search the internet. Copernic uses different search engines like AltaVista, HotBot, LookSmart, Lycos, Microsoft Live, Yahoo! and many others. By combining the search results from the different search engines, you will get good search results. The application Copernic Agent Basic is free (download: www.copernic.com).
As an example, below you will find a search by Copernic. In the left column you can choose between searching in world wide web (The Web) or searching in your local area, in this example the Dutch search engines (The Web - Netherlands). The other items in the left column are not that useful.
LOCAL SEARCH ENGINES IN COPERNIC
Don't forget to install the local search engines during setup! If you didn't get the option to install local search engines, uninstall Copernic and perform a new setup.
Copernic search setup
The Copernic setup is straight forward. You are asked a few questions, which shouldn't be a problem. Select advanced setup to be able to choose your local search engines. I prefer to deselect all the extra options (if you didn't during setup, you can find this option by Tools in the toolbar, Options, tab Integrations):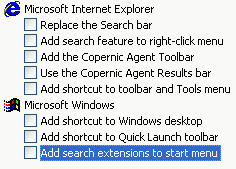 On the Browser tab I advise to enable the option Always open in new Window. This makes it easy to open at the same time different pages which you would to view. On the same tab you can also select what browser to use. On the Connection tab you can lower the search timeout (I prefer 30 seconds).
Search engine options
The first thing I advise you to do is Tools, Check for Search Engine Updates. The next step is to customize the search engines, by right clicking on a category in the left column (e.g. The Web) and select Properties. You will see the following screen. You can select all search engines and raise the Maximum results per search engine (also for your category with local search engines).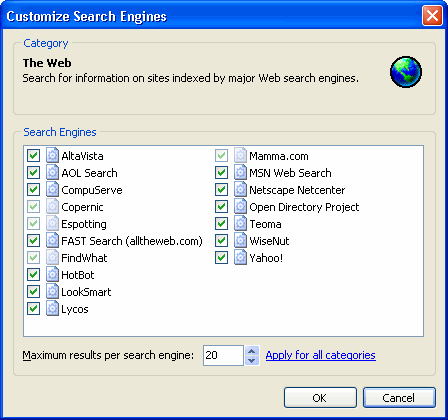 Searching the internet with Copernic
By double clicking a category you can start searching the internet. At the left side you will see your search results, which are stored on your computer. Here you see a search for "internet search" with 101 results.
© 2001-2022 - Menno Schoone - SchoonePC - Rotterdam - The Netherlands