Setup: installing Windows on your hard disk
The Windows XP setup procedure is straight forward, you install Windows on you hard disk, simply by running the Windows XP CD. The only thing to do is restart your computer and boot from the Windows XP CD-ROM (DO NOT start the Windows XP CD-ROM within Windows, you need to boot it). The Windows XP setup procedure will start automatically (you probably only need to confirm booting from the Windows XP CD-ROM).
Windows XP setup will try to install all the device drivers and connect to the internet through your ethernet modem. The unknown devices will result in one or more question marks in your Device Manager. The question marks for unknown hardware can be difficult to solve and getting connected to the internet is not wise without a firewall. It is easier and safer to disconnect your printer, scanner, modem, web cam, whatever is connected to your computer before you run the Windows XP setup.
WINDOWS XP UPGRADE
If you are installing Windows XP with an upgrade CD-ROM, there is no need to install Windows 98/ME/2000 first. Installing Windows XP upgrade works the same, with one extra step: you have to insert a Windows 98, ME or 2000 CD-ROM to confirm you have the right to use the Windows XP upgrade. This can be a problem if you would like to upgrade and have a preinstalled Windows 98/ME/2000 and not the Windows CD-ROM.
WHAT IF YOU ARE NOT ABLE TO BOOT THE WINDOWS XP CD-ROM?
If it's not possible to boot the Windows XP CD-ROM, you probably need to make a change in your BIOS. You can enter the BIOS by pressing probably one of the following keys at boot (depending on your type of motherboard): DEL, INS, F1, F2, F3, F10, F11, F12......... In the BIOS you need to find something like boot order or boot sequence. Change the first boot option in your floppy drive (for partitioning your hard disk or your system image disk), the second boot option your CD-ROM and third your hard disk (sometimes called HDD0).
MS-DOS BOOT DISK
If booting from CD-ROM is not possible, you can always start the Windows XP setup from a MS-DOS boot disk with CD-ROM support (don't forget to run SMARTDRV.EXE first). If your CD-ROM is D:, you have to give the following commands to start the Windows XP setup: D: <press ENTER> CD\I386\ <press ENTER> WINNT <press ENTER>.
SLIPSTREAMING WINDOWS XP CD-ROM
If you frequently install Windows XP and every time have to update to the latest service pack (and other Windows updates)., it's probably wise to slipstream your Windows XP CD-ROM with the latest service pack and updates. Useful utilities to achieve the slipstream are AutoStreamer (download: www.majorgeeks.com) and nLite (download: www.nliteos.com/download.html). After AutoStreamer added the Service Pack 2 files to the original installation files, you are able to create a new installation-CD. TIP: Because a Windows XP install-CD with Service Pack 1 and higher supports partitions greater then 128 GB, slipstreaming can be very practical to install Windows XP on a partition greater then 128 GB if the installation CD is not yet supported by one of the Service Pack updates.
Windows XP setup: choosing a partition
One of the first things you are asked, is which partition to use for the Windows XP installation. If you have already created partitions (as described on the page partitioning your hard disk), you select the shown C: partition. The next step is formatting the C: partition: select quick format with the file system NTFS. If the drive letter isn't C:, reboot your computer and rerun the setup (if there wasn't a partition at Windows XP setup, the CD-ROM will prevent using the letter C: for your primary partition.), else your drive letter will never become C: (read the item below how to create new partitions). Next you are asked for a username (don't use spaces, only the letters of the alphabet).
What if you didn't re-partition your hard disk......
If you didn't create a new Windows partition yet (read between the lines: the old Windows is still on the C: partition...), the best thing to do is to delete the C: partition by pressing D (see the toolbar) and create a new primary partition to install Windows XP. If you choose to format your old C: partition instead of deleting it, you will be surprised to see old files on your formatted C: partition (check the Documents and Settings folder)! If you plan to create a system image but didn't create the partitions yet, you are still able to do so. Instead of using 100% hard disk space for your C: partition, use a smaller part as described on the page partitioning your hard disk. The extended partition and the logical drives can be created later, using the Disk Management tool (Control Panel, Administrative Tools, Computer Management, Disk Management).
WHAT IF THE HARD DISK IS NOT RECOGNIZED?
During the setup procedure, you are asked on which partition to install Windows XP. If there is no possible partition to choose from, possibly the hard disk is not recognized by Windows. The most common cause is a SATA controller or RAID configuration (a combination of two or more hard disks working together to achieve a faster and/or more reliable system) which isnít supported by Windows yet. This problem can be solved by loading the missing drivers (at the beginning of the setup using the F6 key) from floppy disk. The hardware drivers needed for the controller are stored on the CD with drivers and software for the motherboard. For better support, download the newest drivers from the website of the motherboard manufacturer (see the page about installing hardware drivers).
TIP: Some motherboards has a feature to load a SATA hard disk as an IDE hard disk. Search the BIOS settings for an option like Native SATA support/AHCI (Advanced Host Controller Interface), and disable it. Although this setting works fine, it is better to install the original drivers for the SATA controller afterwards followed by restoring this setting.
NTFS OR FAT32 FILE SYSTEM?
NTFS is a more advanced and stable file system then the FAT32 file system. With NTFS it's even possible to give (or withhold) non-administrative users the right to read and/or write data (this right management is only available within Windows). The FAT32 file system is less stable, but has the advantage to be compatible with MS-DOS/Windows 98/ME. If there is no need to have access to your files within MS-DOS/Windows 98/ME, there is no reason to use the FAT32 file system. You can read more information about FAT32 and NTFS partitioning elsewhere on this website. Don't forget to read the registry tweak for a faster NTFS file system!
HINT: If you already have FAT32 file system (or you didn't have a choice because your computer is provided with a recovery CD-ROM) you probably would like to convert it to the more stable NTFS file system. Converting a FAT32 partition to the NTFS file system is easy: Start, Run and enter the command: CONVERT C: /fs:ntfs /v
Choosing a username
If you are asked to give multiple usernames, create only one username. Only use the letters of the alphabet, no spaces for your name (you can change your name later). More information about creating user accounts elsewhere on this website.
Control Panel
After you have finished the Windows XP setup, you can immediately change some things. The Control Panel shows by default only the categories, at the left select Switch to Classic View to have a better overview, as shown below (the rest of this webpage assumes a Classic View of the Control Panel).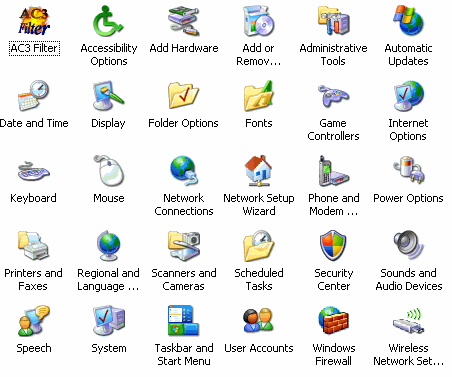 The Control Panel provides you all sorts of options. For example, to view the installed hardware go to the icon System, tab Hardware, button Device Manager (more information about installing the hardware drivers elsewhere on this website). Before you plug in your ethernet cable to check for Windows updates, make sure your internet connection is provided with the Windows Firewall (see icon in Control Panel) or a software firewall.
One of the first things I prefer to do for best performances, is disabling most of the Visual effects (Control Panel, icon System, tab Advanced, area Performance, butting Settings). Select Adjust for best performance (all options are disabled) followed by enabling three options: Use common tasks in folders, Use drop shadows for icon labels on the desktop and Use visual styles on windows and buttons, as shown below. All unnecessary visual effects are disabled now, which improves the system performances enormous (you only need to recover the Control Panel, as shown above).
You can read more about Windows XP performance settings elsewhere on this website.
DISABLING BALLOON TIPS
Already irritated by the information balloons, covering the important buttons in the Start Menu? Start the registry editor and navigate to the following key:
HKEY_CURRENT_USER\Software\Microsoft\ Windows\CurrentVersion\Explorer\Advanced
change or add the DWORD-values EnableBalloonTips and ShowInfoTip, both with value 0.
More registry tweaks elsewhere on this website.
Activating Windows XP
The first thing you probably noticed after installing Windows XP, is the activation procedure. You have to connect to the Microsoft server to check if you hardware didn't change (read: a check whether you illegally installed Windows on another computer). The license key in combination with the hardware information is send to the activation server, which confirms the activation. The hardware identification involves the processor, RAM, hard disk, graphics card, IDE/SCSI-controller, CD-ROM. If you change some of them, there will be no problem. If you change more items at a time, you possibly have to reactivate Windows (make a phone call to the Microsoft helpdesk). If you don't activate, your Windows will be blocked after a certain period.
© 2001-2022 - Menno Schoone - SchoonePC - Rotterdam - The Netherlands